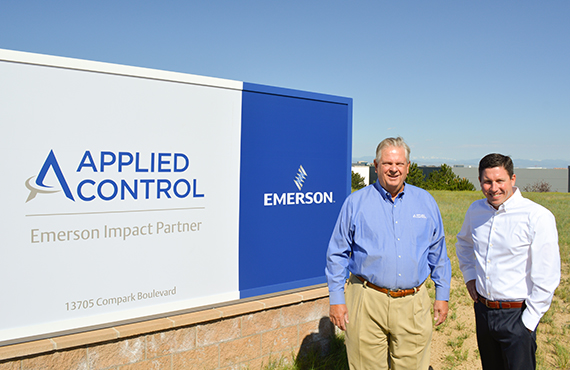 Press Reslease
June 15 2020 | For IMMEDIATE RELEASE

Englewood, Colorado – Applied Control's rich history of leadership and service in the Rocky Mountain area spans 57+ years. It began in 1963 when Jim Rawley moved from Marshalltown, Iowa, to Denver, Colorado. Jim led the James E Rawley Company, an authorized Fisher representative, until his retirement in 1986. Chuck Barber moved from another Fisher representative in Memphis to take over for Jim and renamed the company to Applied Control Equipment. In 1996, Jack Carey, another Fisher leader from Marshalltown, moved to Denver to lead the company. With Jack's guidance, Applied Control Equipment found a solid footing for significant growth. Jack established a customer-centric approach to serving our market and expanded the company's core capabilities in tandem with the ever-expanding portfolio of premier products from Emerson. In doing so, Jack established Applied Control as the leading supplier of process automation solutions in the Rocky Mountain region. Today, Applied Control attributes much of the company's success to the vision and effort made by these foundational leaders: Jim, Chuck, and in particular, Jack.
Randy Schrader joined Applied Control Equipment in 1996 as an Automation Specialist and grew with the company while filling several leadership roles. When Randy assumed the president's role in 2010, he set forth on a mission to build upon Jack's legacy, while dropping "Equipment" from the company's name.  Over the past decade, Randy focused on fostering a company culture that attracted and kept talent, while promoting teamwork and customer service. With the support of the company's leadership team, Applied Control developed strong leaders across all areas of the company to support and propel continued growth. The company's capabilities, locations, and people grow in tandem toward achieving a common goal of delivering exceptional customer experiences.
It is now time to pass the Applied Control leadership torch once again.  Applied Control proudly announces that Tad Cahill will become the next president. Tad joined Applied Control in 2012, first serving as a Reliability Solutions expert. Over the course of his career, Tad has served as VP Sales for Applied Control, VP North American Sales (Systems & Solutions) for Emerson, and most recently, Chief Operating Officer for Applied Control. Another Marshalltown, Iowa native, Tad comes from a "Fisher family" and brings the rich Fisher tradition of quality and value with him. The leadership transition began earlier this year as Randy will retire on December 31, 2020.
Randy is optimistic for the company's future: "Tad is ideally equipped to lead Applied Control as the journey of expanding capabilities and continuous improvement moves forward.  I am confident he, along with the entire leadership team and all employees of Applied Control, will leverage our strong history to drive a bright future for Applied Control and for our customers."
Please join Applied Control in congratulating and supporting Tad Cahill as the company transitions in the month ahead.
---
ABOUT APPLIED CONTROL
Applied Control Equipment, LLLP. (d.b.a Applied Control) partners with our customers to provide best-in-class technologies, process insights, and leading services. We strive to deliver solutions that support reliable, safe and efficient operations through the entire process life cycle. As an Emerson Impact Partner, Applied Control connects customers with world-class solutions, superior technical expertise and life-cycle services. Applied, Emerson and the North American Emerson Impact Partner Network have the expertise to solve your toughest automation and control challenges. For more information, please visit
www.appliedcontrol.com
.